Disciplined Agile Coach Preparatory Training
Overview:
Our comprehensive training program is crafted to empower you with the knowledge, tools, and techniques needed to expertly guide teams and organizations on their agile journey, utilizing the powerful Disciplined Agile toolkit. Our program is accessible to individuals with some coaching experience, making it an ideal stepping stone for those ready to elevate their skills. No prior certifications are required to enroll in this training or to successfully navigate the certification exam. Our training program ensures you're not just prepared for the exam but ready to drive transformational change with newfound expertise.
Participants will learn how to:
Understand the core values and principles that underpin Disciplined Agile and how to foster an agile mindset within teams and organizations.
Master various coaching models, communication strategies, and conflict resolution techniques to facilitate productive and collaborative team dynamics.
Explore strategies for driving organizational change, managing resistance, and creating a culture that embraces agility.
Discover how to establish meaningful metrics and key performance indicators to track progress and continuously improve.
About the Instructors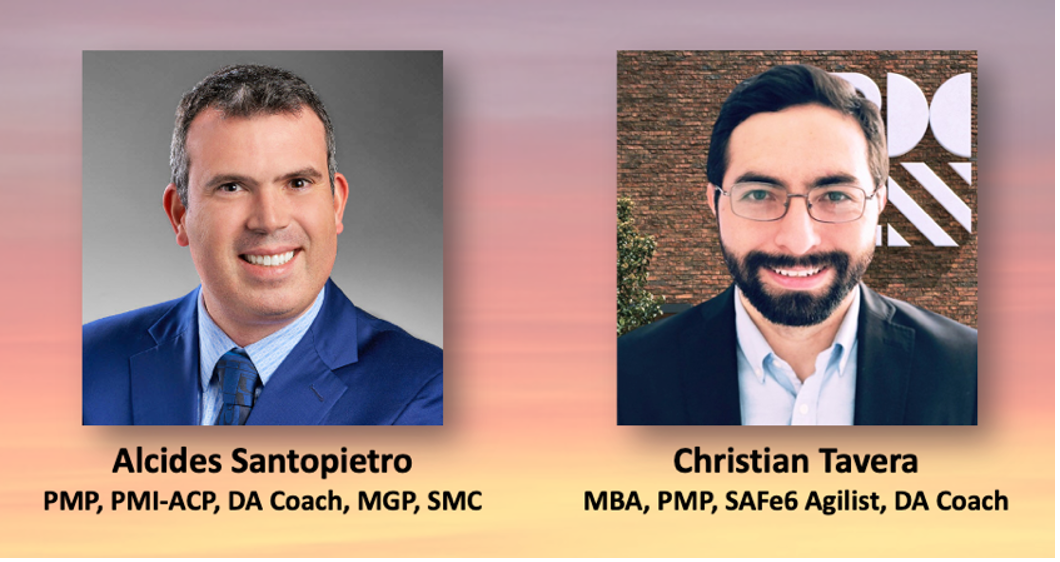 Alcides, a highly experienced Project Management professional with 20+ years of expertise, has a background in Industrial Engineering and a master's in project management. His training delivery prowess shines through as he has been designing and conducting Project Management training courses and exam preparatory sessions in diverse formats, languages, and countries for over a decade.
Christian is a certified PMP Instructor, Disciplined Agile® Coach, and Educator with 15+ years of experience. He's a renowned speaker at regional events and universities, presenting Agile and Business Agility topics to over 5,000 professionals across Mexico, Latin America, and Europe. He excels in Project Management and PMO roles, leading diverse projects in IT, telecom, insurance, and funds sectors.
Link to the course registration page:
https://learn.santopietro.ca/dac-fall2023
Agenda / Schedule - Time & Activity Management:
| | |
| --- | --- |
| Time Slot | Activity |
| Day 1 | Introduction, Making the Case for DA, Choose your WoW, Challenges from the PMO |
| Day 2 | Identifying Challenges and Competencies, Determining Improvement Opportunities, Creating the DAC Playbook |
| Day 3 | Implementing Guided Continuous Improvement (GCI), Visualizing and Removing Impediments, Determining the Root Cause of a Problem, Supporting Diversity, Helping Teams Through the Change Process |
| Day 4 | Overcoming Barriers to Decision-Making, Dealing with External Teams, Helping the organization develop a needed capacity, wrap-up. |
What is included in the fee:
14 hours of interactive live sessions
14 PDUs
Official PMI courseware
Pre-training reading material
1 certificate of completion
1 voucher to take the Disciplined Agile Coach exam
Cancellation/Refund Policy:
Cancellations are accepted not later than 30 days before the first class.
Substitutions are welcome not later than 30 days before the first class. Please inform us about the name of the person who will be your substitute, by emailing alcides@santopietro.ca
Risk-Free (Money back guarantee):
The training is guaranteed to run. After the first day of the training, if the participant doesn't believe that he/she is ready to take the exam, we can reassign the participant to the next cohort, that should happen within 6 months. If another cohort won't take place within 6 months, we'll provide a full refund.
Contact Details for website:
For questions, please contact: 
Alcides Santopietro, alcides@santopietro.ca
**Special Notes:
PDU Claim Code: Details on how to claim the PDUs for the training will be provided to participants at the end of the program.
It is not possible to register for this event